Paired t-test (Compare Two Average with the information of "pair")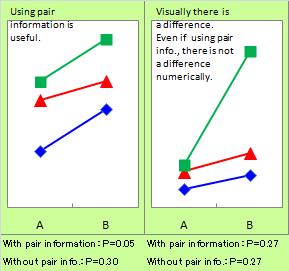 If the differences among samples are large, the difference of categories often seems unclearly. Paired t-test is used for the case.
With pair information is such case that
Same sample is measured by two machines. And the purpose is to compare the machines.
Scores of individuals for two categories. And the purpose is to compare the categories.
Power of Paired t-test
The diagram is an example. It is the case to compare the difference between the average of A and B. In the left diagram, we cannot confirm the difference numerically without pair information testing.
Caution to Use Paired t-test
In the right diagram, even if we use pair information, P-value is not small because unevenness ( outlier ) is large.
You may find that one of the data of B is too large. It may be good that we remove the data from testing as an outlier.
NEXT



Hypothesis Testing for Diffrence of Dispersion